Representing CAMMSE, Dr. Martin Kane Conducted Outreach Activities at the Discovery Place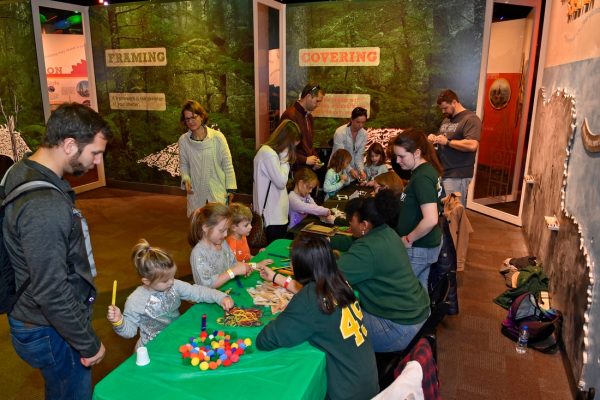 CAMMSE was a part of the "Takeover" of the Discovery Place facility on Saturday, February 22, 2020, along with students from UNC Charlotte William States Lee College of Engineering.
Discovery Place is a hands-on exploration museum and "leader in STEM education in the Carolinas" for visitors of all ages. As part of Engineer's Week, on this day approximately 60 enthusiastic engineering students, staff and faculty volunteers introduced energized youth to an array of engineering examples in action. Over 1500 visitors were able to participate in demonstrations and experiments at table-stations throughout the day.
Engineering students demonstrated examples of robots, floating concrete, rockets, and how dirty water gets filtered, reused, and changed into drinking water. Discovery Place visitors of all ages enjoyed student-led hands-on activities demonstrated by engineering students. The younger visitors were fascinated by how a flat sheet of aluminum foil, folded the right way, can hold up to 130 pennies in a tank of water, before the aluminum foil sinks.
This day-long event was a creative way to introduce youth to aspects of engineering many of which relate to transportation:
Research in robotics is necessary for autonomous vehicles and development of smart cities
Concrete is used in roads and bridges
Water buoyancy factors in the shipping of goods
Rockets are transportation beyond our planet
Discovery Place visitors were given a commemorative tote bag to hold information about at UNC Charlotte College of Engineering, CAMMSE 's upcoming 4th annual Transportation Summer Camp at UNC Charlotte, and how to get more information about other programs at the University. There were many smiling faces on the museum visitors and the volunteers throughout this inspiring, interactive day.
Representing CAMMSE, Dr. Martin Kane conducted all the outreach activities that were related to transportation.